Everyone in New York knows the Ace Hotel: the boutique hotel that started boutique hotels. A refuge for musicians and artists, the hotel is also a notorious hang for roving freelance knowledge workers and late-night basement revelers. But even regular guests may not know about the Ace's Artist in Residence Program, a weekly ritual that invites creators to spend a night in the hotel and ply their craft. Painters, writers, activists, and musicians have all been among them.
This summer, the Ace extended a rare invitation to Artiphon to curate a month of the AIR program. We drafted a simple challenge: choose four musicians and give them each one night to create an original composition with the INSTRUMENT 1. The results were some of the most inspired music we've seen yet.
Caleb Hawley is a singer, writer, and bandleader with a Berklee pedigree and a thing for vivid windbreakers (which he buys at a secret midwestern location and sells at his shows). For the Ace, he brought a song concept he'd started puzzling together while traveling in Mexico. To build out the instrumentation around the lyrical thread, Caleb sampled percussive strikes on his guitar body and strings. He then sampled his voice and pitched it up in ProTools to mimic the hoot of a latin Cuíca drum, with steel drums and symphonic hits sitting strangely well together under his interlocking blue lyrics. By the end, Caleb has a fully instrumented track that is ready for additional verses before finding a home on his next record.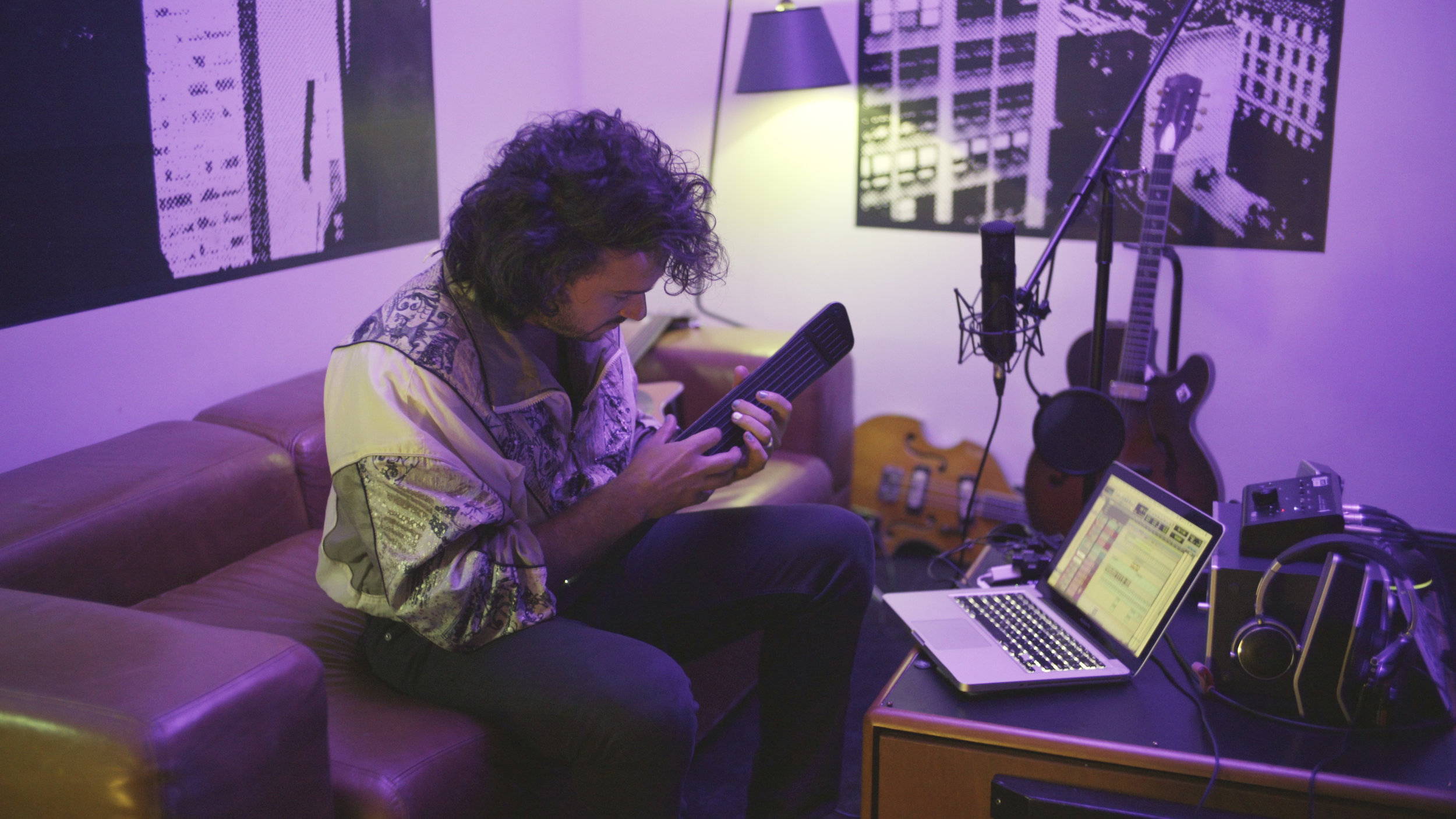 Rodney Hazard is a music producer, creative director, and a man who "solves problems for a living." He started his journey producing for hip-hop heavyweights as well as rising indies. Rodney is one of the first artists to produce an entire album of work solely using the INSTRUMENT 1, as he did with What Keeps You Up at Night?, an instrumental EP that includes crowdsourced spoken-word submitted by his fans. Rodney stepped into the Ace challenge with a blank canvas, composing everything on-site and using Logic Pro X to record and shape this slow-rolling beat titled "Reflections." Though not a guitar player by training, Rodney makes intuitive use of Artiphon's Smart Strum preset to find melodic phrases and intervals that suit beats made with the INSTRUMENT 1's drum mode.
Jachary is the alias of Zachary Levine-Caleb, a Brooklyn artist who's been selling out venues like Baby's All Right and creating hectic and soulful solo tracks while producing for rising NYC stars. From the start of the Ace concept, Jachary knew he wanted to bring in a cohort. (We had to call the front desk to order more Ace bathrobes to accommodate the rest of the Sith lords). Jachary also brings the room itself into the song by assembling a bricolage of sampled sounds: clattering paintbrushes, a carefully dropped metal trash can, that unmistakable Ace toilet flush. The central hook comes from a gritty synth bassline that he plays on the INSTRUMENT 1 with a guitar technique, warping the waves with the accelerometer Tilt. More accomplices arrived as the night progressed, with rappers Supe (of the band QNA), and Akinyemi delivering deft verses (Supe's was freestyled in one take). What we get is a truly unique track that couldn't have happened under any other circumstances.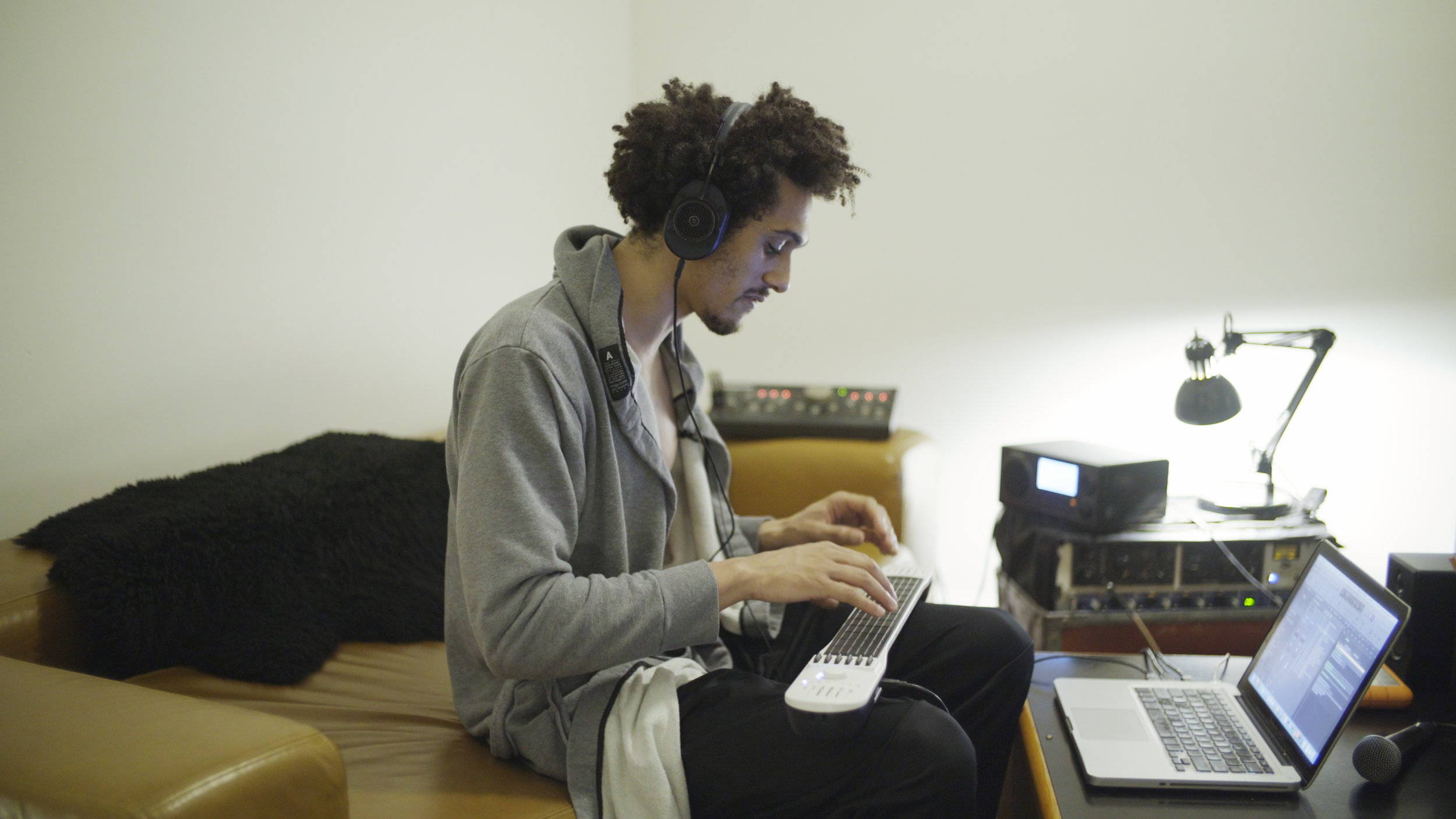 Suzi Analogue made the Ace her way-station as she traveled back to her home base of Miami. Producing bold synth-heavy music and running Never Normal Records, Suzi is a key figure in the elite Discwoman community of femme producers. She cooked her track from scratch by laying down a beat and then routed her voice through the INSTRUMENT 1 into her Critter and Guitari Organelle synthesizer. Suzi expertly sprinkles trap rolls on top before polishing the track in Ableton Live. And yes, she really did arrive with a suitcase full of silk flowers.