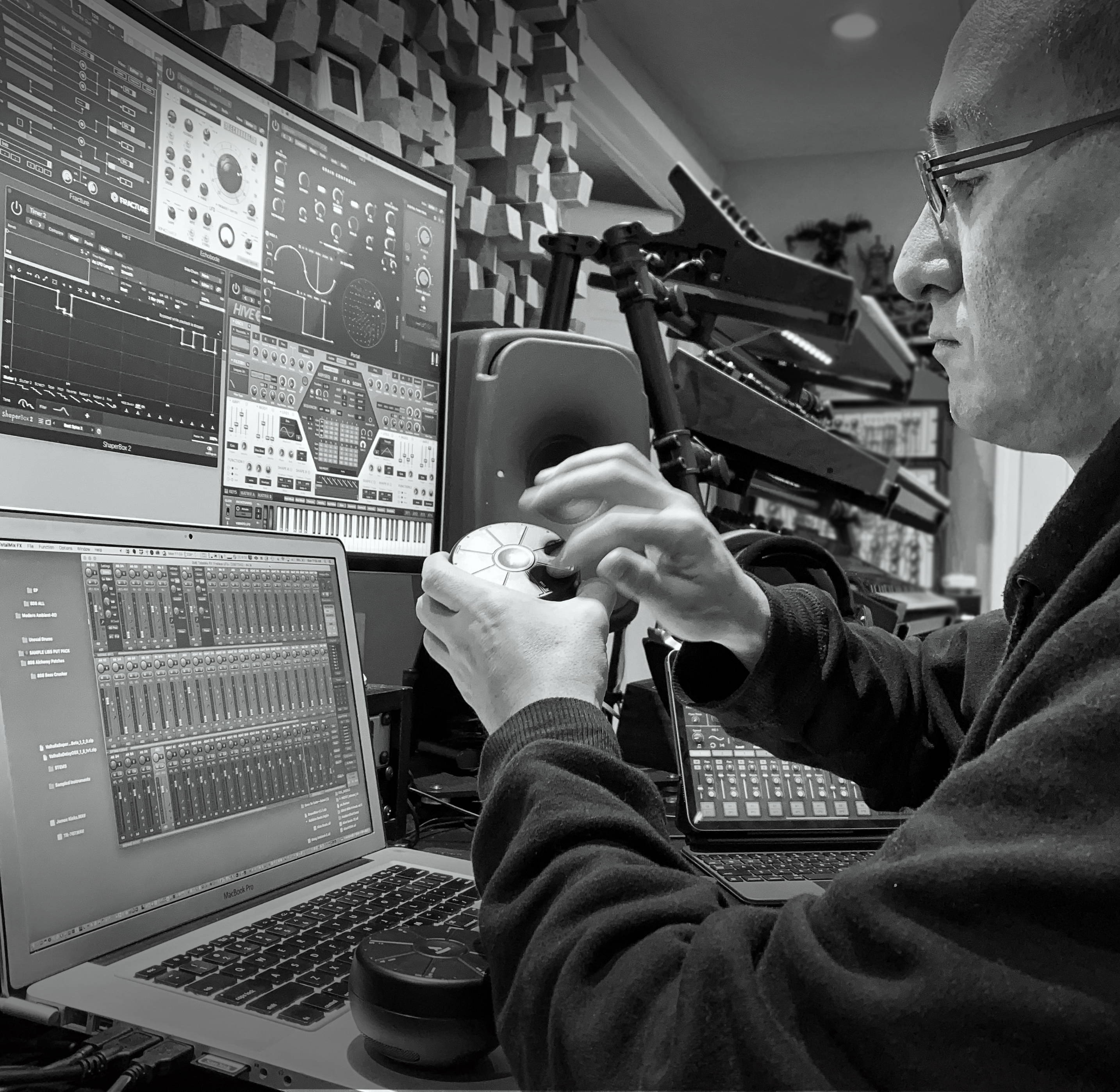 Photo courtesy of the artist.
You've heard Richard Devine's work whether you know it or not. It's in a drum machine you own, a song you love, a game you play, an app you use, or even in VR. He's worked with the major music tech companies on their hardware and software, he's built spatial VR audio at Google, and now Devine has joined Apple to work on their audio and music apps. All this and he still puts out records and grows his infamous modular synth.
In our interview, Richard reflects on his role in Orba's sound design and how he's been using Artiphon instruments.
You helped create some of the first sound design for Orba. What was it like designing for Orba's interface and playing gestures?
Richard Devine:
The Orba is an extremely unique instrument. You have multiple gestures that can be mapped to different parameters, so you could change the loudness and filter of a sound at the same time with one finger swipe. I loved how easy it was to work with. The synthesis engine is extremely powerful and was a joy to program sounds for. I really had a lot of fun making some of the percussion kits.
Orba's onboard synth is an interesting mix of East Coast and West Coast-style synthesis, physical modeling, and other attributes (all on a really light chip). How would you describe Orba's musical personality?
RD:
I would say that Orba's musical personality is very open and has lots of variety. I was surprised at the sheer amount of different sounds you can come up with using the synthesis engine. You can make very realistic-sounding plucked string sounds to slamming 808-style kick drums. I was incredibly impressed with how it can go from one extreme to the other. It really shows how well designed the engine was for this product.
As a MIDI controller Orba can also be used with production software and external synths in some really new ways. As someone with such a deep relationship with digital and analog synthesizers, what does Orba offer as a controller?
RD:
For me Orba offers a very small portable handheld circular form-factor which makes it a wonderful device for triggering drums. I also love sweeping around the Orba surface and quickly playing melodies. You play things differently compared to a traditional keyboard, which is good in that it forces you to think differently about melodies. I've come up with so many cool new sequences by using Orba as a MIDI controller with Logic Pro and playing various virtual instruments like Omnisphere and u-he's Hive synthesizers.
I hear you've also experimented with INSTRUMENT 1 as a controller for your infamous modular synth setup. What's that been like?
RD:
The INSTRUMENT 1 is another very unique device that has allowed me to do things I haven't been able to do with any other controller. I've been using the INSTRUMENT 1 in conjunction with my Eurorack modular and it's allowed me to play drums and melodies in nontraditional ways. I love sweeping up and down the surface to play different pitches/timbres. It's actually also a really awesome controller for making new sound effects. You can do very dynamic long gestures with it. I'm still learning new things, and love the feel of it.
Last question. What creative technologies do you see on the horizon that people aren't yet thinking enough about?
RD:
I would say the world of artificial intelligence and machine learning is slowly making its way into some sound design synthesis environments. I'm also looking into the latest generation of generative instruments. I'm eager to get my hands on some of these newer instruments that can analyze what the user wants, then take that data and re-use it or repurpose it for something else. I think the really interesting part will be to confuse the algorithms into creating something entirely new. I think the misuse of this technology to see what can happen will be a very interesting area to explore.