Hold out your hands and meet Orba, a new kind of musical instrument. It's a synth, looper, and MIDI controller that lets anyone make music immediately. Orba's minimalist design resembles a cross between a gaming controller and a half a grapefruit, and its feather-touch sensitivity translates gestures from your fingers and hands directly into sound. Orba introduces a new and fun way to make music anywhere, even if you've never played an instrument before.  
Orba lets you play every part of the song on a single instrument. Switch easily between Drum, Bass, Chord, and Lead parts, then layer them to create a song with the built-in looper. It takes just a few seconds to loop a beat, and then you can play along for hours.
Orba adapts to the way you want to play, and there's no right or wrong way! Orba's touch and motion sensors combine to capture even your most subtle gestures. Pick it up and hold it, or just reach over and play a few notes while it's sitting on your desk. Play it with one hand or both, with your fingertips or thumbs, or shake and wave it through the air. You can slide around each pad, or go crazy with some vibrato. Circle your fingers over the top like a singing bowl, or strum an invisible guitar. It's all you!  
Orba builds on Artiphon's design theory of the multi-instrument: a single instrument that you can play as many. Where the INSTRUMENT 1 reflects traditional instruments like guitars, violins, and keyboards, Orba lets you play with simple gestures we use every day on smartphones, trackpads, and game controllers.
We started by looking for a shape that would suit all hand sizes, was just asking to be picked up, and could break the mold of conventional keyboards and grid controllers. In designing Orba, we were inspired by musical objects like shakers, rattles, kalimbas, hand drums, and bells. We also found ourselves obsessed with circular objects in the kitchen: grapefruits, cupcakes, teacups, beets, and bowls of miso soup.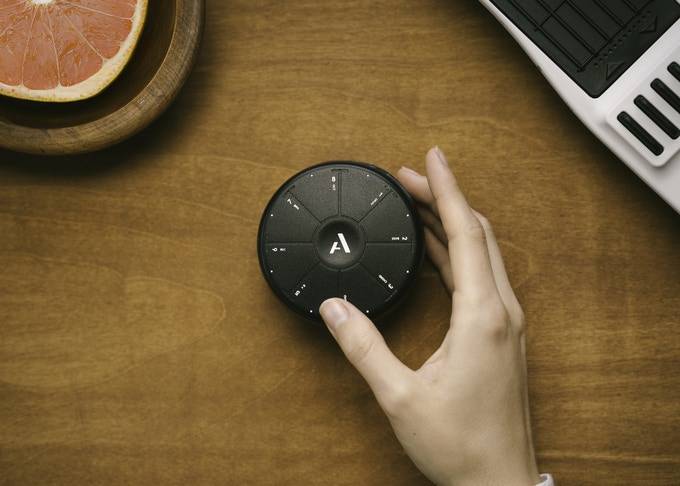 There's so much more we can (and will) say about Orba, but for now, we encourage you to visit the Kickstarter page to watch more videos and learn more about this interesting new piece of music technology.