Here's a simple synth melody we created for an Artiphon Short.
Apple's Digital Audio Workstation (DAW), GarageBand, is a powerful tool that makes it easy and fun to experiment with sounds both familiar and new. For this post, we're going to focus on GarageBand for iOS, but the Artiphon INSTRUMENT 1 works wonderfully with GarageBand for both Mac and iOS.

For the creator new to music production, GarageBand is a simple and easy-to-navigate experience packaged in a familiar-feeling app. For the experienced player or producer, you'll notice the INSTRUMENT 1's more advanced features, such as MIDI Polyphonic Expression (MPE) and Tilt, come to life as you play through this expressive and expansive library.

---
To get started, simply download the app from the Apple App Store. Once downloaded, plug in your INSTRUMENT 1 and open the app.
At the top left corner of your screen, you'll notice an icon with three squares. This is the Browser button.
Tap the Browser button choose from a selection of instruments. To start simple, we recommend selecting Guitar.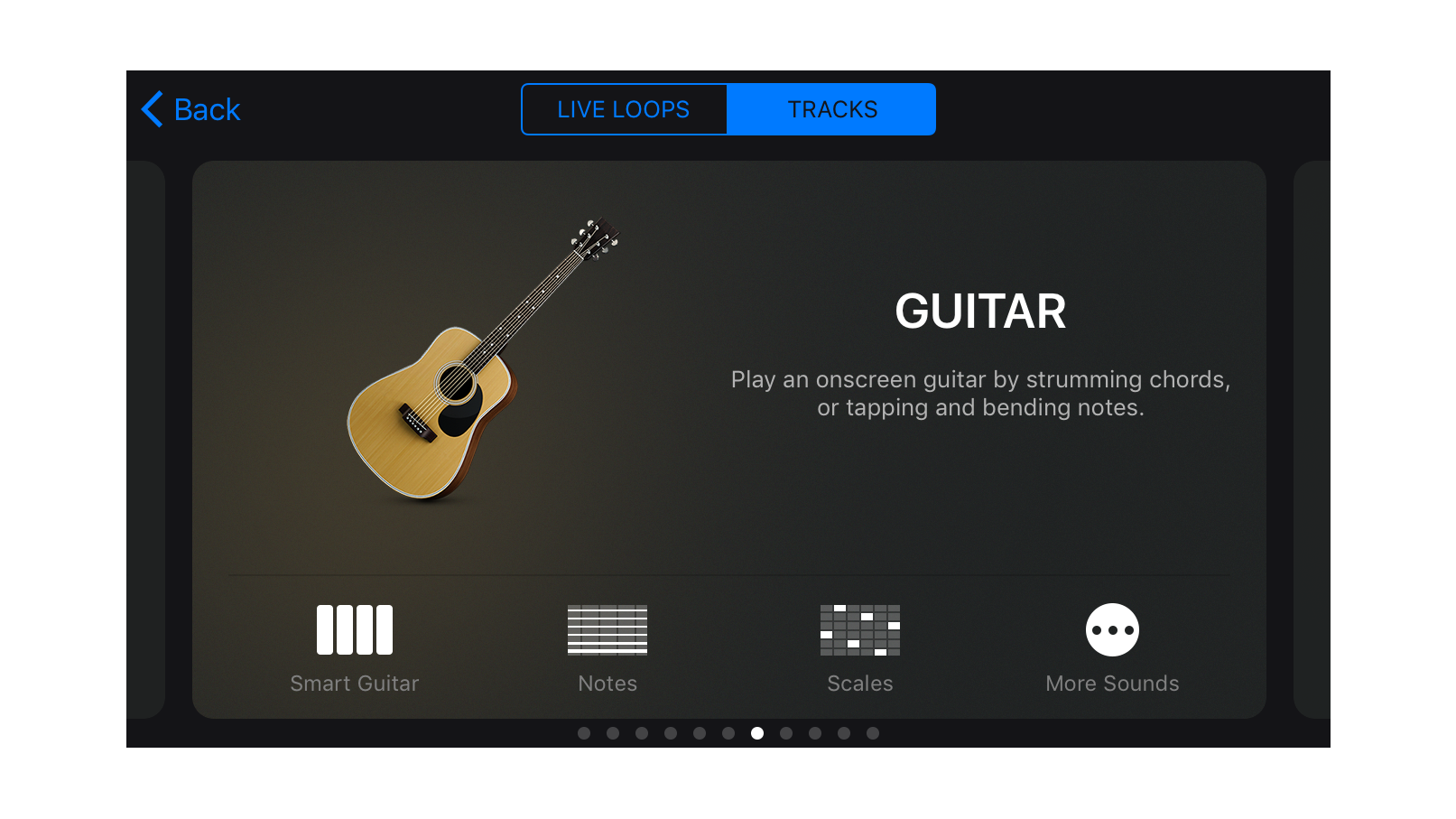 In addition to choosing the Guitar sound in GarageBand, you can also put the INSTRUMENT 1 in a Guitar preset.

When you strum the bridge triggers, you'll hear GarageBand's guitar through the speakers of your INSTRUMENT 1.
Now, keep in mind that you can use any INSTRUMENT 1 Preset with any sound in GarageBand. You can strum a piano, or bow an organ. You can arpeggiate a vocal sample, or slide a Japanese Koto. The same way a MIDI keyboard controller could be used to play guitar sounds, the INSTRUMENT 1 can use several techniques and play any sound.
Tap the Browser button again and scroll to the Keyboard. To make things interesting, don't change your INSTRUMENT 1 preset: stick with the Guitar preset and you'll find you have a strummable piano. 🤯
If you're not familiar with the fretboard, we recommend using the Piano Preset on the INSTRUMENT 1, which is a simple C major scale. For a refresher on the different INSTRUMENT 1 presets, view video four of our Step-by-Step INSTRUMENT 1 Guide: Meet the Presets.
GarageBand's keyboard instrument is not just limited to the acoustic piano, either. Each instrument in GarageBand is preloaded with a variety of alternate sounds. Tap the dropdown in the top left corner of the Keyboard screen to have a look. The library is expansive and sounds incredible.
GarageBand is perfect for recording and arranging as well. To record, tap the red Record icon at the top of the screen. You'll hear a metronome count in, and then you can start playing.
When you've finished playing, hit Stop and tap the Timeline icon in the upper right corner of the screen. All of the notes you played will show up on the timeline in a rectangular block called a region. Now you can experiment with arranging what you've played. You can cut it, loop it, add effects, and even overdub.
If you double tap on the region you'll see a new set of options appear:

Select 'Settings' and have a look at a few of the ways you can tweak your recording. You can adjust the speed, reverse the order of notes, and even quantize notes so they align to the grid of your project. Experimenting with these settings is a great way to enhance your playing and discover new ideas.

GarageBand has a useful Help document that you can reference as well. Find that in the Settings section at the top right corner of the screen. Tap 'Song Settings' and then scroll down to the bottom of the page.
---
And that's just the beginning! With the INSTRUMENT 1 and GarageBand, you now have everything you need to write, perform, produce, and mix your own music. Inspiration is sure to follow as you continue to explore the powerful combination of INSTRUMENT 1 with GarageBand iOS.
In this tutorial video, see how we connect to GarageBand iOS and OS X to play bass, erhu, a toy piano, and synth sounds with multiple positions and techniques.