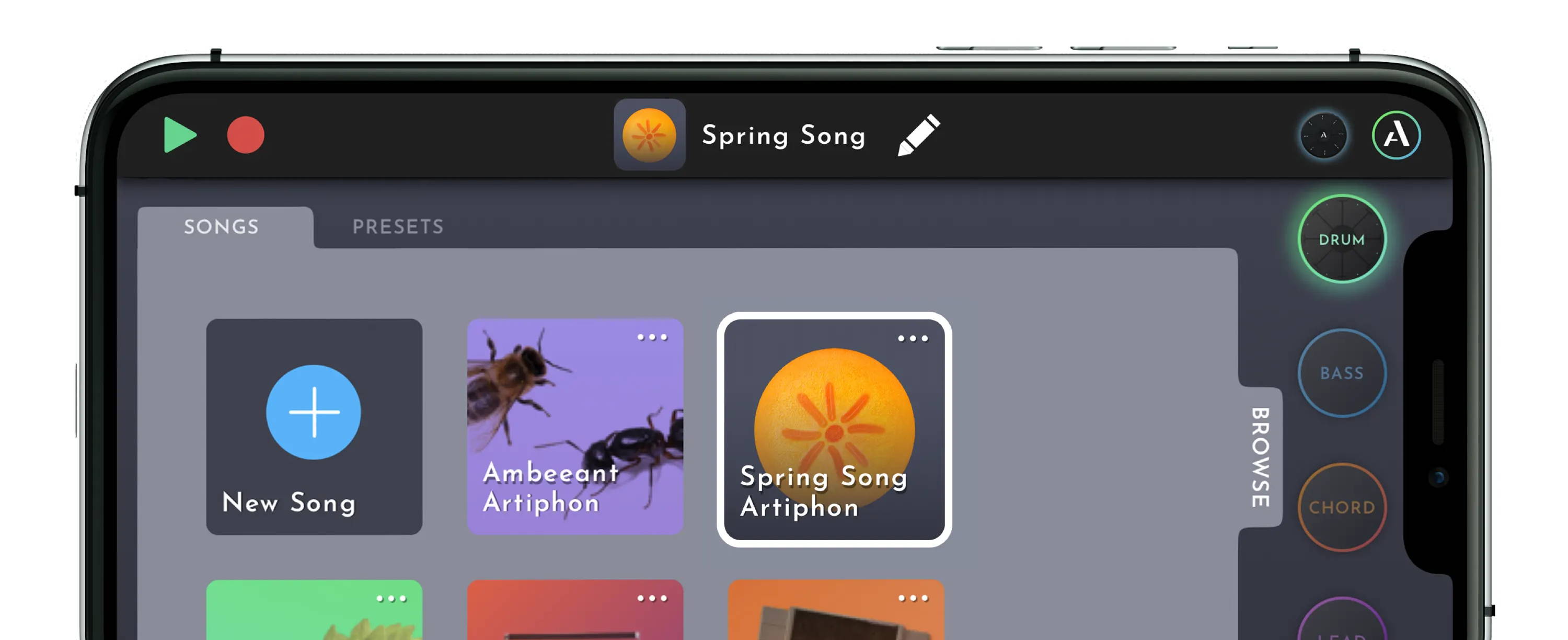 Greetings to all! There is much going on and we're eager to share good news from the Artiphon world. Below you'll find new Orba features, slew of new videos from our studio and uploads from players from around the world. We're also hiring some exciting roles here at Artiphon. Let's dive in.
---
Orba continues to evolve (based on lots of feedback from you!). These updates are available on our downloads page. Here's what's new:
💾 Song saving:
You can now save (and load) your creations in the Orba app. Your performance, presets, key, and tempo will be safe and sound until you're ready to come back and continue working. You can even add custom artwork.
🔊
VOLUME-PER-PART:
You can now mix your song (make the drums quieter and the bass louder, for example) right on Orba. To do so: hold A + the instrument pad you want to mix and adjust the volume buttons up/down. Nice.
➕ AND MORE:
We've also added new sounds and the ability to turn your metronome on/off. The full release notes can be found here.

Download the new app from artiphon.com/downloads and be sure to update your firmware to take advantage of the new features.
You can now mix the individual instrument parts in your songs, right on Orba. Hold the A button and the wedge for the mode you want o adjust while using the volume up and down buttons on the side.
---
THREE THINGS TO TRY IN ABLETON LIVE 11
One of the most notable new features in Ableton Live 11 is the addition of MIDI polyphonic expression (or #MPE) MIDI. Because Orba is a full-fledged MPE controller, Orba and Ableton just got a lot more friendly.
CONNECTING ORBA TO HARDWARE SYNTHS
We often get asked, "How can I connect my Orba to my hardware synth?" In this video, we lay it all out.
---
A THRIVING CREATIVE COMMUNITY
Oh, the joy we get from seeing people from all around the globe riffing and looping with Orba and INSTRUMENT 1. Scroll through below for just a few recent gems:
---
---
Are you an engineer who has dreamed of creating the instruments of the future? We like you already.We have a range of open positions including firmware, software, UI/UX, and Director of Engineering. All are remote (from a US timezone). Learn more on our Jobs page.