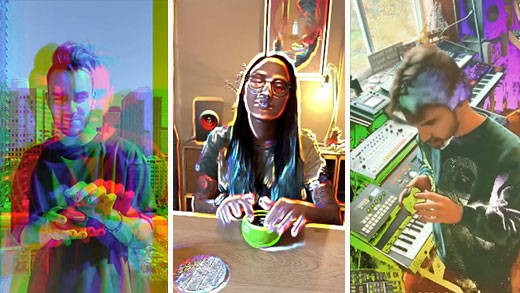 WOW! 🤩 Just couple of days since we released Orbacam and y'all blew it out of the park with your array of colorful videos! Here's a small sampling of our favorite musical selfies made by you this week.
We dare you to watch this and not dance. Join a tinted, synth-wave dance party with Mr. Tuna.
Bump to teleport into a world of pixelated beats with BrandonRico.
Drop the colorful bass with Liam Killen.
Take a moment for yourself while Gnarly guides you throw a visual Orba meditation.
It's alive! Beautiful Beats 99 makes his studio come alive with Orba and Orbacam.
Beatmaker whiz, The Phronetic cooks up a new tune using Orbacam for the reactive visuals.
Kilroy brings in the snazzy lofi beats, but this time he's overtaken by waves of color.
Taetro dyes the city skyline as he makes one of his signature-style lo-fi beats.
"What is this thing though?!" Take a tour around Maya's new obsession, Orbacam.
Ready to start making and sharing videos? Get the app at the Apple App Store! And please don't forget to share your Orbacams with us by tagging @artiphon and #orbacam.