Hold out your hands and meet Orba 2.
Play any sound in the world, create your own instruments, and make songs in seconds.
"Whatever your ability... this little instrument is fun and satisfying to play."
Play any sound...
...in the world.
Orba 2's sounds include traditional instruments as well as electronic synth sounds. Open your Orba 2 and play upright pianos, guitars, found sounds, and more. Imagine conducting an orchestra in the park — no strings attached and no screens required.
March to your own Beat... 😛
Each of the four Modes (Drum, Bass, Chord, and Lead) feature dozens of new instrument presets.
...or March to Another's 👨‍🎤
New on Orba 2: Stem Songs.
Stem songs allow you to remiagine and remix real songs by the sharpest songwriters and producers.
Create your own instruments.
With the Orba 2 app, you'll be able to record any sound from the real world and transform it into a playable musical instrument.
A bicycle bell, a bird in a tree, and your roommate's amazing voice can be the start of a new song. You can also import samples you've already recorded, such as your solo from the middle school musical.
Shake, rattle, and roll?
Tilt, Radiate, Bump.
As simple as tapping with one finger, Orba 2 captures even the most subtle micro-movements.

Its improved ceramic-like playing surface simultaneously reacts to the nine simple gestures: Tap, Press, Radiate, Tilt, Shake, Spin, Vibrato, Move, and Bump.
Loop songs in seconds.
Play them for hours.
An Orba 2 song can be 5+ minutes.
Orba 2 has an integrated MPE looper that allows you to record loops right on the device itself.
Using Drum, Bass, Chord, and Lead modes, you'll be able to combine these sounds to create songs that are uniquely yours.
Play fast and loose,
& always on time.
Introducing Quantize
Orba 2's new quantize feature will automatically make your performance perfectly timed to the beat. This means you can focus on creativity and fun, and Orba will take care of the rest.
Yeah, it works with that.
Use Orba to control your MIDI-based software and hardware instruments. Orba works with GarageBand, Ableton Live, Logic Pro, Pro Tools, Cubase, FL Studio and more. Orba is fully compliant with the new standard for MIDI Polyphonic Expression (MPE), making it capable of multiple independent Orba gestures. 🤓
The Many Orba apps.
The new Orba App is how you'll try new instruments and make your own.
With Orbacam you can turn your Orba Songs into multimedia video performances.
What's in the box?
Orba

USB Cable

Quickstart Guide
Dimensions
3.14" (diameter) x 2" (height)
I/O
USB-C (USB 2.0 Class Compliant Audio/MIDI)

3.5mm (1/8") TRS Analog Headphone Stereo Out
Bluetooth
Bluetooth LE MIDI (MIDI only)


Note: Windows 10 does not currently support Bluetooth LE MIDI
Speaker System
3W built-in active speaker system
Compatibility


iOS 11 and newer

Android 9 and newer

macOS 10.12 and newer

Windows 10 (64 bit)


Note: Firmware updating requires a cabled USB connection and can only be done from a desktop computer.
Note: Transferring a sample from your device to Orba 2 requires a cabled USB connection.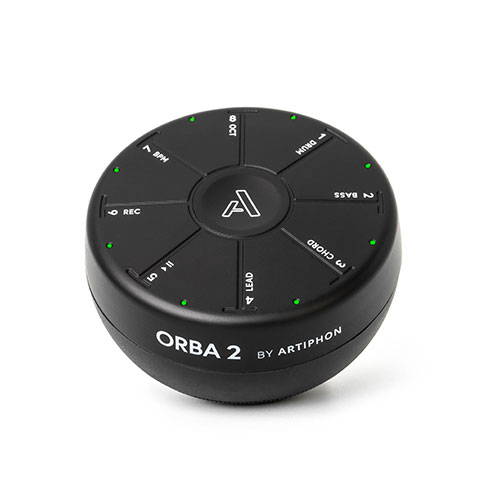 Bluetooth MIDI controller
Record + import
your own samples
128 Bar loops
(up to 5 minutes)
Estimated to ship in 
8-10 weeks. 
Fulfillment time will vary based on the courier you chose and your shipping location. 
In stock and ready to ship.